BYSS 1200 Watt Artificial Snow Machine
1200-watt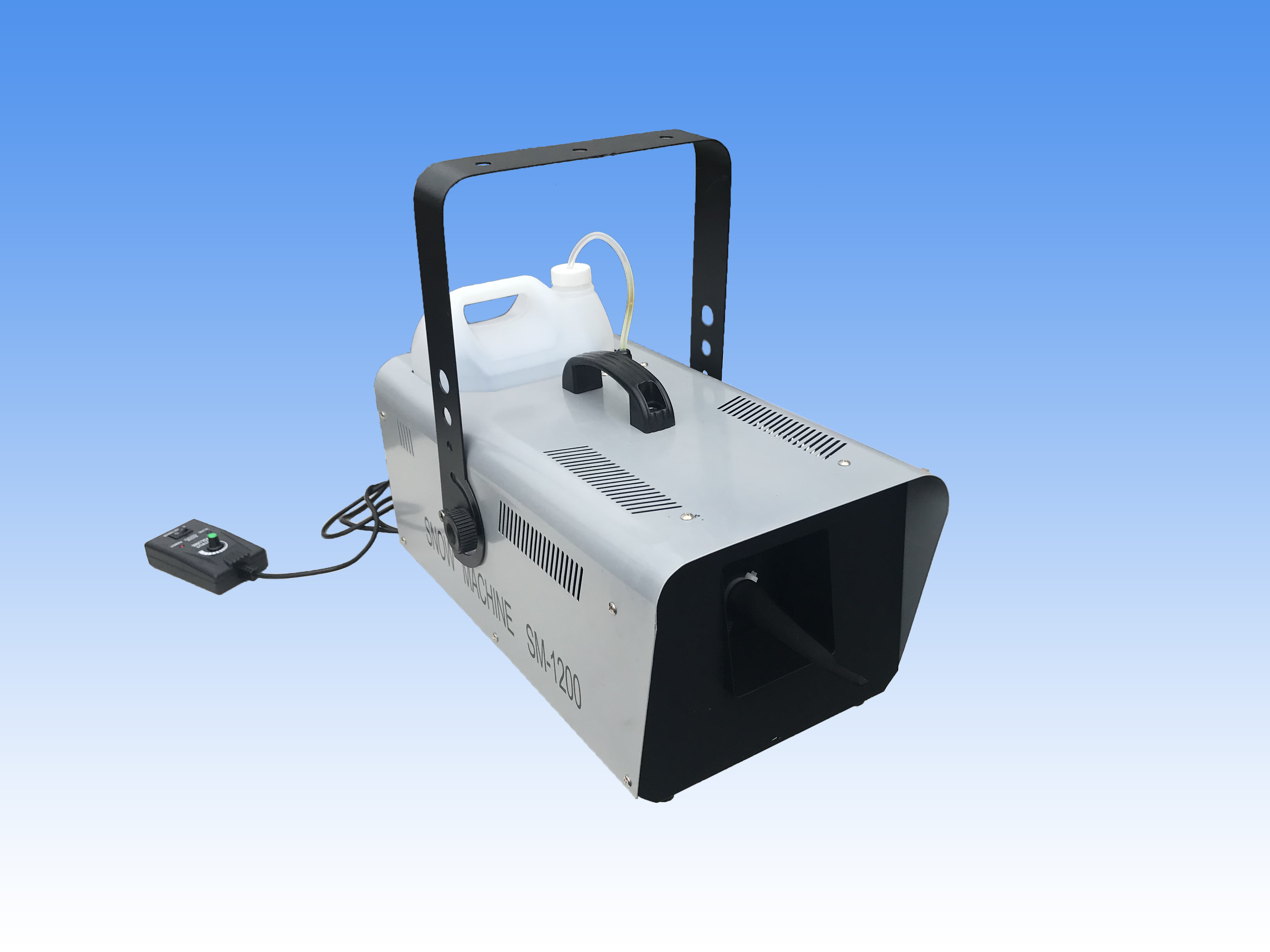 Free Shipping US & Canada
This machine produces fake snow. (NOT REAL SNOW) The artificial snow flakes produced are a "soapy" based foam solution. This machine is intended to create the "effects" of falling snow only!
The BYSS 1200 Watt Snow Machine is the real deal when it comes to Artificial Snowmaking.
This snowmaker is heavy duty and is equipt with low and high output settings. BYSS Snowmaking Fluid is non-toxic, and safe to use. BYSS fluid itself is evaporative and won't leave any mess or stains. BYSS Snowmaking Fluid is sold as a concentrate and only requires distilled water (not included).
A 32oz BYSS Snowmaking concentrate will make approximately 2.5-4.5 Gallons of snowmaking fluid. 32oz concentrate can be mixed with 2-4 gallons distilled water depending on the desired flake size. Start with 2 gallons of distilled water and add more water to create "lighter" looking flakes. One 32oz concentrate will last for 30min-60min if the snow machine is being used continuously. The amount of fluid that will be used will depend on the output settings and flake size.
FEATURES:

High output of artificial snowflakes
Cordless Remote for easy ON/OFF
small/large flake options for "lighter" or "heavier" snow falling effects
Mounting arm included for attachment
SPECS:
SIZE: 20"x 10"x 12" (52x26x30cm)
WEIGHT: 13.7LBS (6.2KG)
NOISE: 69.2 dB at 10' from machine - can be compared to the sound of a typical hairdryer
TANK SIZE: 1.3 GAL (5 L)
FAQs:
Q: How long will one 32oz solution concentrate bottle last?
A: It will last 30 - 60 min depending on how much water you add + if you run the machine continuously.
Q: How long will the flakes stay on the ground?
A: The flakes will last on the ground or other surfaces anywhere from 5 - 30 minutes. This will depend on how much water is added to the solution. (more water = less time) Over time, the fake snow flakes will evaporate and disappear.
Q: How far will the machine shoot the flakes? (1200 Watt Version Only)
A: This will depend on the angle and consistency of the solution. On average, the shooting distance from the machine will be about 20-40ft. The width coverage will be approximately 10-15ft. We recommend setting up the machine is a high location to get the maximum area coverage!
Return and Warranty Policy:
All BYSS artificial snowmakers have a 30 day return policy. Items must be in new condition. Customer is responsible for shipping charges plus a 15% re-stocking fee.
All BYSS artificial snowmakers have a 1-year limited warranty. BYSS will cover any malfunction to machine under normal use with BYSS solution.
$239 In stock
BYSS Snowmaking Fluid Snowmaking Fluid 2x (32oz concentrate) (50) Snowmaking Fluid 4x (32oz concentrate) (96)